Health Care Outreach
URF strives to improve the health conditions of children and adults in rural communities through various programs.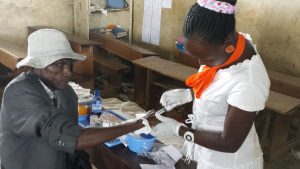 The quality of health influences the quality of life for any individual and subsequently impact development for a community. At URF, our health care intervention is focusing on prevention and less on treatment. We do this through community health talks in villages and local schools.
Our nurse with other staff and volunteers conduct rotate in villages teaching basic health tips. The first round of workshops for November has focused on personal and household hygiene and sanitation- washing hands, cleaning house and compound to remove stagnant water that usually becomes breeding ground for mosquitoes that transmit malaria, boiling water for drinking, washing hands after using latrines, food preservation, etc.
The nurse collaborates with trained Village Health Workers that were trained by URF. Each village has two VHWs who are the first responders when there is an emergence and also assist with basic health education and monitoring. They visit patients and call in to request medical transportation assistance in emergence cases when someone needs to get to a hospital but can't afford. URF has a medical van for this service.
At the clinic, the nurse conducts basic health check ups and treatment. Major cases are referred to the hospitals in Masaka town, 40 kms away.
We facilitate HIV testing and counseling through a partnership with Uganda Cares!
URF also engages in the struggle to prevent malaria which is a number one killer disease in Africa. We provide treated mosquito nets to children and women in poor families. We recently distributed over 1000 mosquito nets.
Women's Health Van-Helping women & children access treatment
Women in rural villages suffer complications during childbirth because they can't transport to access medical care at distant clinics and hospitals. The van is a partial solution to this danger that threatens the lives of hundreds of women and their children. It is used to transport women and children who need critical medical care to hospitals and clinics.
Watch this video to hear women themselves tell their struggle to access health care at critical moments and the challenge for transportation to get to good clinics and hospitals far away from the villages.
Pictures of the Medical Van