U.S. Directors
---
Rev. Fr. John Mary Lugemwa, OSB, President and Volunteer Coordinator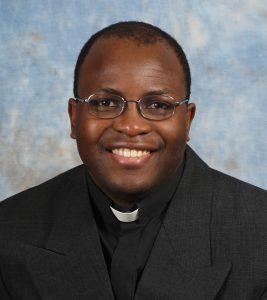 Fr. John Mary, born and raised in rural Uganda, holds S.T.B. (Theology) and M.A. (Monastic Studies) degrees with honors from Saint Vincent Seminary, Pennsylvania, where he also received the Honorable Judge Bernard Shrerer Award for academic excellence, integration of knowledge, faith and charity. He also obtained B.A. degrees in Computer Science and Philosophy from St. John's University, Minnesota. In 2013, he studied Leadership and Management at Sant' Anselmo Pontifical University in Rome, a course offered in collaboration with the University of St. Gallen's Business School in Switzerland. Besides studying Law at Makerere University in Uganda, Fr. John Mary has taken classes in Non-profit management at the University of Richmond's Institute on Philanthropy. He also holds two diplomas in Bible Studies from the International Bible School in Norway.
As a monk of the Mary Mother of the Church, Benedictine Abbey, Virginia, Fr. John Mary serves as Director of Vocations and Formation, Webmaster, and previously as an assistant in the Business office. He is the Chaplain for Benedictine College Preparatory where he also teaches a computer class on Web Design and Web technologies, as well as serving on the Board of Trustees. He regularly takes on weekend missions in local parishes in the Richmond Diocese. Fr. John Mary also serves on the Mission Committee of the U.S. Conference of Major Superiors of Men.
Fr. John Mary founded Uganda Rural Fund (URF) in 2005 while a college student and currently serves as President. Through URF he has established the Hope Integrated Academy in 2008, a vocational high school for orphans and other underprivileged rural children. In 2013, he has added the Hope Junior School, a kindergarten that will evolve into an elementary school to provide a solid academic foundation to prepare kids to excel at higher levels of education. Under his leadership, various other programs have been initiated: a community library, computer center, women empowerment, village banking, water and sanitation, a leadership institute, a medical clinic, and youth empowerment.
Fr. John Mary founded the Grassroots Development Network (GDN) as a resource to empower other grassroots development practitioners with skills and resources they need to effectively manage sustainable projects in their local communities. Using his experience, he also provides free consultancy to individuals and groups who are starting up new nonprofit organizations.
During his college career, Fr. John Mary initiated the Africa Service Learning Program, a program that sends groups of college students to work with AIDS support organizations in East Africa. He also founded two student organizations: the Global AIDS Awareness Organization and the Africa Students Association at the St. Benedict's College and St. John's University, MN. Fr. John Mary was also active in other student clubs and student government. He sat on the Joint Academic Board and also served on various administration committees as a student representative: the Academic Assessment Committee, and the Curriculum and Academic Policies Committee.
In 2009 and 2010 Fr. John Mary has participated in the Clinton Global Initiative conferences at the University of Miami and University of Texas at Austin, which bring together students from around the world who are committed to effecting social change. He also founded the Jolu Consult International (JCI – www.joluconsult.com), an IT and development consultancy firm which provides technology solutions to community-based organizations and schools in developing countries to harness the power of technology and multiply the impact of their social programs. JCI proceeds are allocated toward science and technology education programs for underprivileged children in rural communities.
Fr. John Mary has received various awards for his work in Africa and the United States. He was the recipient of the International Peace Award in Washington, DC in 2007, and the 2006 Excellence in Leadership Award and Inspiring a Shared Vision leadership Award from the College of St. Benedict's/St. John's University. He was one of the recipients of the Peace and Justice Award from the Vincent L. Hawkinson Foundation, Minnesota in 2006. In 2010 John Mary received the Innovative Community Builders Award in Virginia.
In 2012, Fr. John Mary was ordained a Catholic Priest and hopes to go for doctoral studies in Canon Law to continue serving the Abbey and the universal church. Fr. John Mary's experience of growing up in poverty in a rural village in Uganda drives his passion for helping children and those in need. His work brings him much joy and peace, knowing that these small deeds can make a difference in other people's lives.
———————————————————————————————————————————
Benjamin (Ben) Kaster, MD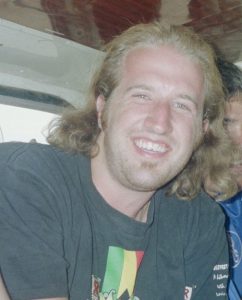 Ben Kaster has been with Uganda Rural Fund since its founding in 2005. He holds B.A. in Peace Studies from St. John's University. Ben obtained his MD degree from Ross University Medical School and MPH degree from Johns Hopkins University.
"I can smell the anger and see the frustration in the eyes of people who have become victims of poverty which has propelled me to act. In 2004 I helped establish  Uganda Rural Fund (URF) based in Uganda to promote equality for the rural poor. URF is now able to assist the community in supporting themselves while providing them with the fundamental realities that all humans need:food, shelter, education and access to health care. Upon my return, I have continued to be a voice for the voiceless, sharing the stories of commonality and bringing home a human face to correspond with our nightly news. It is from these experiences that I gather my inspiration and dedication to proceed towards my ultimate goal: to become a physician, and help my global community."
---
Matthew Kuntz, JD
Matt Kuntz was born and raised in Helena, Montana.  Matt received his bachelor's degree from West Point and his law degree from the University of Oregon.  Matt served as in infantry officer in the Army and was recognized as Distinguished Member of the Thirty-Fifth Regiment for his service.  Matt was practicing corporate law in Helena when his step-brother, a Montana National Guardsmen who suffered from post traumatic stress disorder, committed suicide.  Spurred on by his step-brother's death, Matt began advocating for effective screening and treatment of post traumatic stress injuries of our returning service members.  Matt's advocacy efforts on behalf of Montana's servicemembers and their families were documented in the book, Faces of Combat: PTSD & TBI by Eric Newhouse.  Matt was also recognized by President Obama in his inauguration festivities as one of eighteen Ordinary Americans Who Have Made An Extraordinary Difference.  In June of 2008, Matt took on the role of the National Alliance on Mental Illness for Montana's (NAMI Montana's) Executive Director in order to support, educate, and advocate for all Montanans suffering from mental illness and their families.
---
Christopher Blake, Ph.D
Chris Blake (65) is a psychotherapist who lives in Duxbury, MA in the US. He holds a PhD in Neuroscience and Behavior, a MSW in Clinical Social Work, an Med in Secondary Level Counseling and a BA in History from Yale. He has worked as a teacher and therapist most of his life. He has been on the Boards of the Hoosac  School in Hoosick, NY, Crossroads for Kids, Boston, MA, the Community School, Camden, ME, the Stowe School, the Midcoast Detox Center, the Bay Area Children's Museum (co-founder) and is a member of his local Interfaith Council, volunteers for No Place For Hate, is an Emergency Responder for the American Red Cross, and carries on a number of supervisory and consultancy relationships with non profits. He is a clinician at Duxbury Counseling Services, Duxbury, MA.
Chris returned from volunteering in Kyetume and Masaka and, with Dan Hall, raised funds for and commissioned the building of the new Boy's Dorm at the Nazareth School. His commitment to the work of URF is whole hearted. "You pick one grain of sand off the beach of want in this world and commit to it, fiercely. URF is mine. I will contribute to URF in any way I can, including Board of Directors service if that's helpful. URF has grown to such a degree and at such a pace that it's going to take a number of us, each in our proper roles and with our own distinct talents, to work together to be sure it stays successfully on the visionary path that Michael, John Mary, and others set for it just a short time ago. It is a Ugandan project for the benefit of Ugandans. We must remember that at all times and contribute what we can to help.
---
Daniel Hall
Dan after graduation from Colby College spent two years with the military in Eritrea in East Africa. After a year of teaching in Williamstown, MA, he earned a Masters Degree in Education from Harvard.  Following that study program, he then spent many years in several Massachusetts public schools teaching and coaching. Those years were interrupted with two year teaching stints in Southern Rhodesia (Zimbabwe) as a lay teacher at a United Church of Christ mission secondary school and later with the Government of Zambia at Chamboli Secondary School in Kitwe on the copperbelt.  Retiring in 1993, he was employed for 13 years at a homeless shelter in Boston as a Case Manager.  He and Chris Blake spent the month of September in 2008 with URF in Uganda between Hope Academy and the Nazareth orphanage. The poor condition of the boy's dorm at the orphanage prompted them on their return to Duxbury, MA to raise funds for a new boy's dormitory.
————————————————————————————————————————-
Phillip W. (Phil) Powell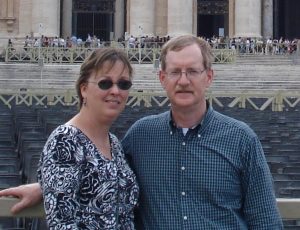 Phil is married to Elizabeth Powell for 32 years, has two children, Allison and Carolyn who are in college studying to become an architect and a veterinarian.  He lives in Richmond, Virginia and has worked for the local electric utility, Dominion Virginia Power for more than 33 years where he is presently the Director of Conservation and Load Management Research and Program Development.  His work at Dominion involved various assignments in the areas of Electric System Protection, Power Supply, Electric Planning, Reliability and Renewable Energy Efficiency. He has a Bachelors Degree from Georgia Tech in Electrical Engineering and a Masters Degree in Electrical Engineering from Purdue University.  He loves to run, camp, and do volunteer work, is a member of Engineers Without Borders and on the Board of the Bainbridge Community Ministry (Richmond Based Food Closet for people in need).
In 2009 Phil and a group of students at Virginia Tech from EWB were able to complete a volunteer project in rural Uganda at the Hope Integrated Academy installing a solar power system with battery storage for the school.  They returned last summer to assess additional projects to be worked by the Virginia Tech EWB teams.  Phil's work and his passion is to support conversion of the United States economy to a renewable energy base and help guide the growing nations to start with a renewable energy base one small project at a time.
—————————————————————————————————————————
Sarah DiCerbo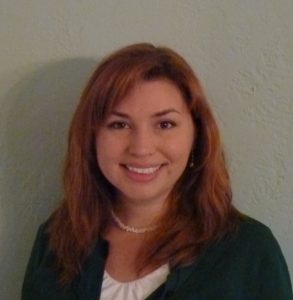 Sarah grew up in a Marine Corps family near Annapolis, MD.  After graduating with a bachelors in Business Management from Virginia Tech, she began her career in business and IT consulting at one of the big 5 consulting firms.  She now resides in Richmond, VA where she continues consulting with a specialty in Organizational Change Management.
Through a missions trip to China, her eyes were opened to the disparity between life in the West and life in many other parts of the world.   She saw barriers in education, health, community engagement, and limited opportunities as common barriers many people in underdeveloped nations faced.  Wanting to find a way to help, she connected with Uganda Rural Fund which was started by Ugandans and works with the local Ugandan community to build resources and better the community.  Sarah has worked with URF since 2008 and is continuously amazed by the volunteers' passion and the impact this organization is making on the community.  "The great thing about URF is as a concerned citizen of the global community, you don't have to have all the answers to make an impact.  As an individual, you can donate your time, skills, or money and URF integrates your contribution into their holistic approach to supporting the Ugandan community.  URF has the local knowledge and development experience to give your contribution meaning and make it significant to the community."
—————————————————————————————————————————-
Jeff Eiffler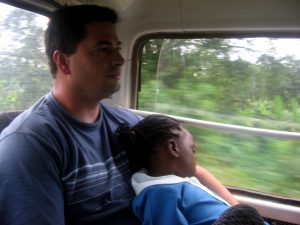 Jeff Eiffler was born and raised in Chisago City, Minnesota.  After high school, Jeff spent a little over a decade serving as a US Army infantryman.  After his service, Jeff Earned a B.A. in History from St John's University and a B. S. Ecology and Field Biology from St Cloud State University.
Jeff has been involved with URF since the organization's infancy and has traveled to Uganda three times since 2006.  He has also helped organize fundraisers and mentor several student volunteer groups.  Jeff is motivated and encouraged by the changes he has seen at URF/Hope Academy over the years.  He states: "I am always amazed when I think about the brief yet productive history of the organization.  During my 2006 visit to Hope Academy, only the building foundation existed.  Now, there is a vibrant, flourishing academic community that was made possible largely by small volunteer groups and other concerned parties.  This experience has helped me realize that an individual does have the ability to positively impact the lives of others".
—————————————————————————————————————————-
Elizabeth (Beth) Dingmann Schneider
Beth D. Schneider has a BA in English from the College of St. Benedict and a MFA in creative writing from Hamline University. She has spent more than 10 years working in the field of K–12 educational publishing, and she has volunteered as a reading tutor in Minneapolis public schools.
Beth was first introduced to Uganda Rural Fund in 2006 when she spent a month in Uganda on an educational and service trip. Beth's experiences in Uganda had a lasting impact on her view of the world and the uneven distribution of resources across the globe. Beth has been inspired by the progress of Hope Academy in the more then 10 years since her visit. She is thrilled at the opportunity to extend her love of education in support of Hope Academy by serving on the URF board of directors.