News
Sign Up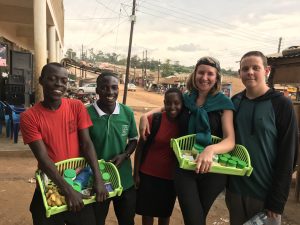 to receive URF Newsletter
Visit our BLOG for complete news stories
Click to find PHOTOS of current projects
2017 Project Updates
+Over 300 patients received treatment at our August medical camps
+A new playground is nearly completed and the kids are having so much fun
+Hope schools opened on Sept 11 for the third term and S.4 candidates are preparing for national exams
+The new classroom block is nearly completed, only missing windows, doors, and plastering
+In August the Virginia Tech engineering team installed a new solar system at St. Joseph's school
2014 Project Updates 
+Enrollment has increased to 170 students. The new class, grade 8/senior one has 35 students
+Hope Junior School currently has 40 kids in kindergarten and primary one.
+150 youth participated in our Jan 2014 leadership camp at Hope Academy
————————————————————————————————
Archived News, 2013
+URF staff professional development training during the week of June 23-29th
+Piggery Project – the pig pen is completed. We are raising 32 piglets.
+Hope Junior School opened in February with 39 kids in kindergarten.
+Teachers' Housing construction was completed
+Main Hall construction project is nearly completed. We need $7000 more for doors, windows, floors, plastering, and painting.
Archived News, 2010
Aug 06 & 07th, 2011:           Medical camp facilitated by Univ of Minnesota medical students along with a Ugandan doctor and URF nurses. Saturday is for children and Sunday for adults.
August 27th, 2011:               Leadership and Professional Development workshop for URF Kampala chapter of young professionals and university students.
May 21, 2011: Medical Camp
May 16-19, 2011: Training Community Health Volunteers
June 04-06, 2011: Community Needs Assessment & Strategic Planning Workshop
– Teacher's Workshop, February 27th, 2010 – 9:00AM – 5:00PM at Hope Integrated Academy. The workshops will cover topics on teaching pedagogies, participatory or student-driven learning, educating the under-privileged child, and round-table sharing of teaching experience and challenges of rural teachers.
– International Youth Camp and Young Professionals for Community Development Conference, Jan 7 – 10, 2010. Bringing together over 250 youths from all over Uganda and abroad to motivate young people to get engaged in community development.
– Youth Camp for Friday Aug 28 – Sunday Aug 30, 2009 with a focus on youth leadership and personal development.
-Agriculture workshop is scheduled for Sept, 19.
-Entreprenuership and Business Management training course is set to launch in September.
-June 2009 Community Empowerment Seminar attended by over 600 people
-3 new homes have been built for child headed families during June – August, 2009.
-Men's group launched in May and currently engages in village banking, seminars, goat and piggery projects.
-URF was featured on Public Radio in Virginia, Listen to the Interview(mp3)-URF and Nazareth Home featured inBoston Globe.